Who doesn't love a nice sofa? At the end of a tiring day, you can sit, lie down, play with the kids, watch a movie, the uses are countless! This is why choosing the right fabric for your sofa is also very important. Let's have look at the different types of fabric and choose yours based on what you are inspired by and what you expect your couch to have so that your family can use it.
Simply put, you can find the following types of sofa fabrics available in the market: suede, leather, jacquard, chenille, linen, linen, suede, velvet, in addition to synthetic materials. Noble fabrics such as silk, for example, can be used for sofas, but it is best to limit them to pillows and decorations, as they can be challenging to clean. You want your sofa to last as long as possible.

1) Leather
Leather is ideal for those with animals and children at home and those who prioritize the practicality of cleaning and the design. Besides, leather will complement any type of décor.
Pros: Leather is beautiful, can adapt to cold and heat, and very easy to clean. You simply have to wipe with a damp cloth and that's it!
Disadvantage: The only drawback is that it costs more than other fabrics and synthetic leather itself. However, the durability is quite long, so it's worth the investment.
If you like synthetic leather, some options mimic leather, such as PU, Corino, and Court Van. However, with synthetic leather, you need to pay more attention, especially to avoid drying it out and get the undesirable "cracking" effect.
2) Chenille
Chenille is a very distinctive fabric, usually with lines and checks, and its composition includes cotton, silk, and wool. It was once one of the most commonly used fabrics for sofas, but with the advent of the very similar suede, it decreased, mainly due to cost issues.
Pros: comfortable and velvety to the touch.
Disadvantages: it absorbs dirt quickly, it is difficult to clean, and has a lot of folds, making it unsuitable for people with allergies, respiratory illnesses, and animals.

3) Suede
Made of polyester, this fabric is one of the most widely used types of sofa fabric today. It is ideal for those who prioritize comfort.
Advantages: low cost, comfort, velvety softness, a wide variety of prints and colours, and durability.
Disadvantages: the material is highly absorbent, so there is a significant risk of stains, and cleaning deep stains is complicated. However, there's nothing that can't be fixed by waterproofing.
4) Velvet and Suede
Like trendy linens, velvet and suede are the new darlings of the sofa. They are irresistible!
Advantages: perfect for cold places, they are malleable and very comfortable fabrics, not to mention delicious too! And above all, they are beautiful to meet your eyes. And best of all, they are lovely to meet your eyes.
Cons: You need to constantly monitor the cleanliness of the sofa because any stains and dirt will appear on these fabrics. Not the best for those who have small children at home or pets.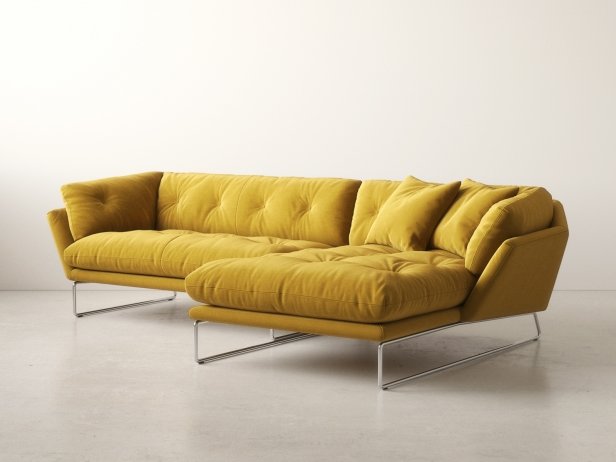 5) Linen
Whether it's decorating or fashion, linen has brought it all back! It's a beautiful and elegant fabric, but it has its quirks. Check it out.
Pros: excellent for warm places, even though it's partly waterproof, it doesn't absorb dirt and moisture similar to suede, chenille, and twill, and can be cleaned up daily with just a damp cloth.
Cons: It is not practical to clean, as it is a more sensitive fabric and has a greater risk of staining, so the help of a professional company for a complete cleaning is ideal.
If you don't want to invest in a sofa right now, you have the option to cover it with another cloth. That way, you can give your furniture a new look without spending so much money. It's always good to change the look of your home. Often, one detail can make a massive difference in the environment.