There are several solutions to renovate your kitchen, creating a new and modern environment.
The kitchen is one of the most used spaces in a house, and it's essential that you feel comfortable carrying on your tasks in it. If you are tired of your kitchen but cannot build a new one, the existing one's renovation is possible. But how to beautify an old kitchen?
Giving the kitchen a new life is possible. There may be several reasons you want to change or transform it, but with a few small tricks, your kitchen will have further details, giving your surroundings a fresher and more modern air.
Let's see how to do this in a simple and economical way.

1) Paint
The first way to give a new life to your kitchen is to change the color of your doors or walls. If the furniture and other accessories are made of wood, it will be easier to do. Just choose the most appropriate color and start painting. The colors to choose from are varied: pastel shades, neutral colors, white or black to give your kitchen a touch of modernity, or you can opt for bright colors or contrasting chromatic effects. This will add a touch of freshness and vibrancy to your surroundings.

2) Change the Floor
The floor is one of the most characteristic elements in the room. The change itself can create the impression of living in a completely new, different environment than the previous ones.
If you do not want to incur high costs, you can opt for laminate. Modern and economical, it is applied directly to the previous floor, avoiding masonry work. Some different colors and sizes fit perfectly to any need.
The same operation can be done on the walls. The trend is especially integrating a wall chalkboard into the kitchen. The walls, preferably only one, can be transformed into huge, practical, and original boards.

3) Cover the Ruined Furniture
If the doors and kitchen furniture are old and worn out, furniture curtains are an excellent solution. Simple and economical, they are available in different colors, shapes, and sizes and give your kitchen a new style in just a few steps.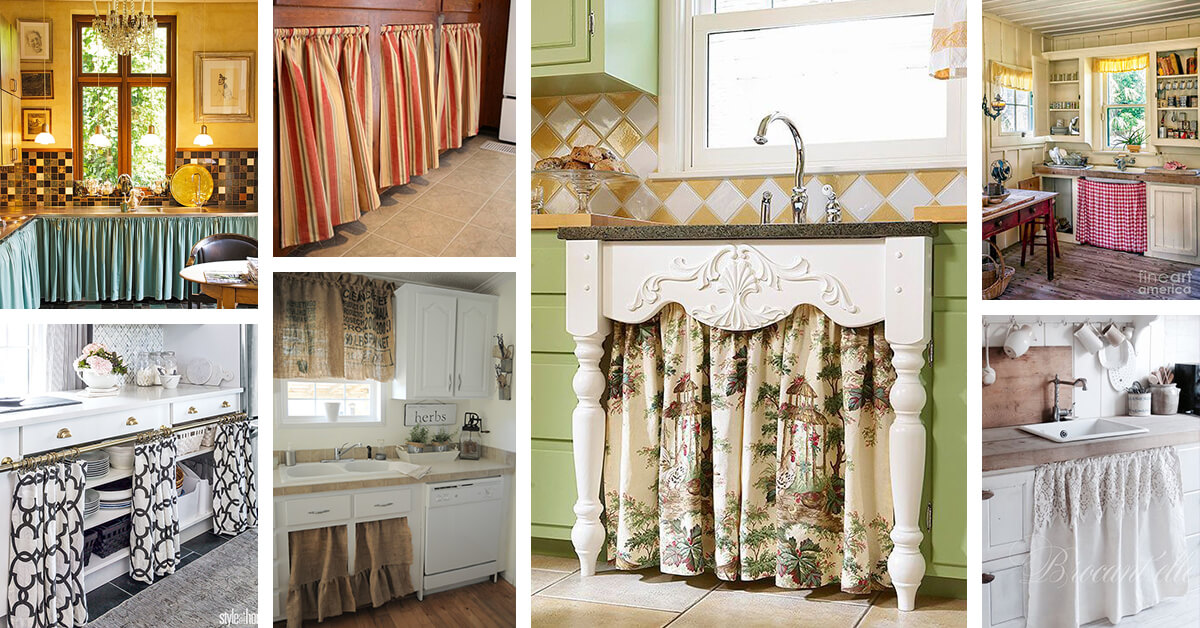 4) Change the Splash Guard
Splash guard is a fundamental element in the kitchen. It protects walls from dirt, making the environment lively and colorful. Its replacement is straightforward and will immediately give your kitchen a new face. The use of materials such as resin or glass allows for creating a modern and customized environment.

5) Lighting the Environment
An excellent way to modernize the kitchen is to light the environment. Eliminating bulky hanging cabinets, replacing them with open shelves and containers will give new light to the environment, make them more aesthetic, and better organize the space.

6) Buy New Appliances
It is undoubtedly an operation that involves some economic expenditure, but very little is needed to renovate your kitchen. The appliances are an integral part of the environment, and their purchase certainly has a lower cost than remodeling the entire kitchen. The catalogs to choose from are different, two or three new appliances are sufficient, placed with care, and designed to give new life to the environment.

7) Give New Life to Furniture
Kitchen furniture is essential. As we have already seen, they can be painted or covered, but there are other solutions. If they are made in white for the table and chairs, you can get a silage effect, typical of country chic style. Alternatively, you can create DIY furniture and shelves, functional and perfect for reorganizing your space.
If the furniture accessories are no longer suitable for you, you can choose to replace some of them. It can also be wonderful to keep the table and change the chairs, perhaps buying them in a more modern and exceptional style and design.
Do you have any other tips to help renovate an existing kitchen? Share it with us in the comments below!