Generally, your bedroom should be the place that you love the most and where you spend your time relaxing. If you want to give your master bedroom a makeover, but you lack the inspiration, then check out this amazing guide!
Assess Your Needs
Before you start redesigning and redecorating, why don't you first think about what you really want for your master bedroom? What are the activities that you want to do? (aside from sleeping and some hanky panky, of course) Do you want a room where you can work on your computer? Or, do you want the place to be exclusive for resting where you can read the latest Stephen King book and watch some tv?
These are some essential questions that you need to ask yourself as they will guide you on what kind of furniture and lighting you need.
Add the Furniture Based on Your Needs
As mentioned above, once you have decided on what you really need in your bedroom space, you can start preparing your furniture list.
If you want to add extra seating, you can place a bench at the foot of your bed or add a lounge chair if you have some space.

If you are going to bring your work home, try to arrange for a nice desk and a comfortable chair.

Do you know how many book lovers place a hammock inside their bedroom?
Choose Your Bed Wisely
When I say master bedroom, many tend to think of a supergiant bed. But remember that your bedroom will have to accommodate more than just your bed. So, it would be best if you made sure that there is sufficient space for any additional furniture and walkways.
Please do not buy the first mattress that you get and instead, I recommend reviewing several of them. Besides, you need to take some measurements if you don't want to end up with the wrong size. And, when it comes to a headboard, you will notice that there are several options available on the market (from canopy beds to headboards that can be fixed to the wall).
When your bed is ready, you can add a few throw pillows to boost the overall look.
Find the Perfect Paint Color
"When you are picking a paint color for your bedroom, the thing that I find is most soothing, and really the easiest to execute is to add the color you like to dress in—whatever color looks best on you."
– Ann Lowengart, an interior designer in California
If you are confused about choosing the right paint color, I suggest you to look inside your closet for inspiration. Why? Well, if you think about it, your bedroom is the most personal space in your entire house that reflects who you truly are. So, when you paint the walls, you need to paint them with colors that reflect you the most and that can also look great on you.
Include Lots of Storage Space
No one wants a cluttered bedroom. So, if you want a more open and spacious master bedroom, all you need to do is:
Mount wall shelves

Choose a headboard that can hold objects

Choose pieces of furniture that have shelves attached

Add in storage bins for underneath your bed
Play With Patterns and Textures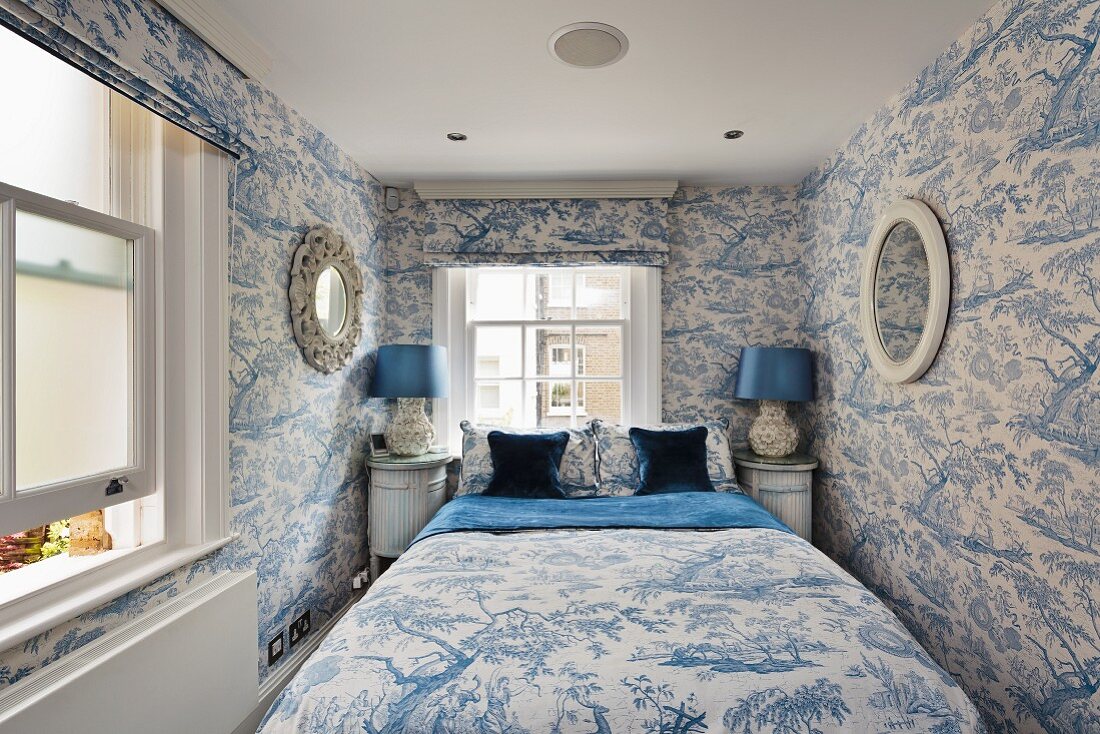 Most homeowners are afraid to play with patterns and textures. But, let me tell you that you don't always have to be matchy-matchy. For instance, did you know that floral bedding can be paired with a striped one? (But, you need to make sure that the colors are coordinated)
Trust me, mixing these patterns and styles can definitely spice up your room.
Let in Some Natural Lighting
Think about how beautiful a bedroom will look with the natural light in the morning. As sunlight can help to create a warm and relaxing space, I suggest adding large windows and if you have a balcony, you can add sliding doors that lead to it.
Will you follow these tips? Please share your comments!