One should believe in ancient traditional philosophies as per their own choice. But, if you believe in the Vastu Shastra – an ancient Indian architectural guide – you should know that a well-built pooja room is said to attract lots of positive energy and invite happiness, harmony and peace in an environment.
But, in all of this, a beautifully constructed mandir unit makes an entire difference.
And, so this article devotes attention to how you can remodel your pooja room.
Exploiting Unused Places in Your Home to Create a Unique Pooja Room
A small house represents a challenge but a large one provides unconventional areas that can be transformed into divine spaces.
If you want to remodel your personal meditative space, make the most of these simple yet smart ideas:
A Divine Space Beside the Entrance:

A very clever person once said to consider an entrance hall as the unique chance to sweep your guests off their feet and that clever one is me (just joking!)

When you've got a prominent entrance space, it's your cue to uplift the overall ambiance of the home and reflect peace and harmony by integrating a sacred space.

Visitors will be welcomed into a soaring space crowned with the sweet smell of incense sticks and a warm atmosphere set by tasteful shrine colors.

A Pooja Space in the Kitchen:

If you are someone who always enjoys starting the day with some spiritual worship but is always kept busy in kitchen chores, an in-kitchen pooja space would be perfect for you.
Following Vastu Shastra recommendations, the ideal position to keep a pooja unit in the kitchen is for it to be on the left or right of the stove.
Above all, avoid the sink.
A Pooja Space Over the Drawers:

How often do you use that space right above the drawers towards the window.

Let me answer for you: You hardly spare it a glance.

So, how about filling that void with a divine space?
Choosing the Ideal Material for Our Home Temple Design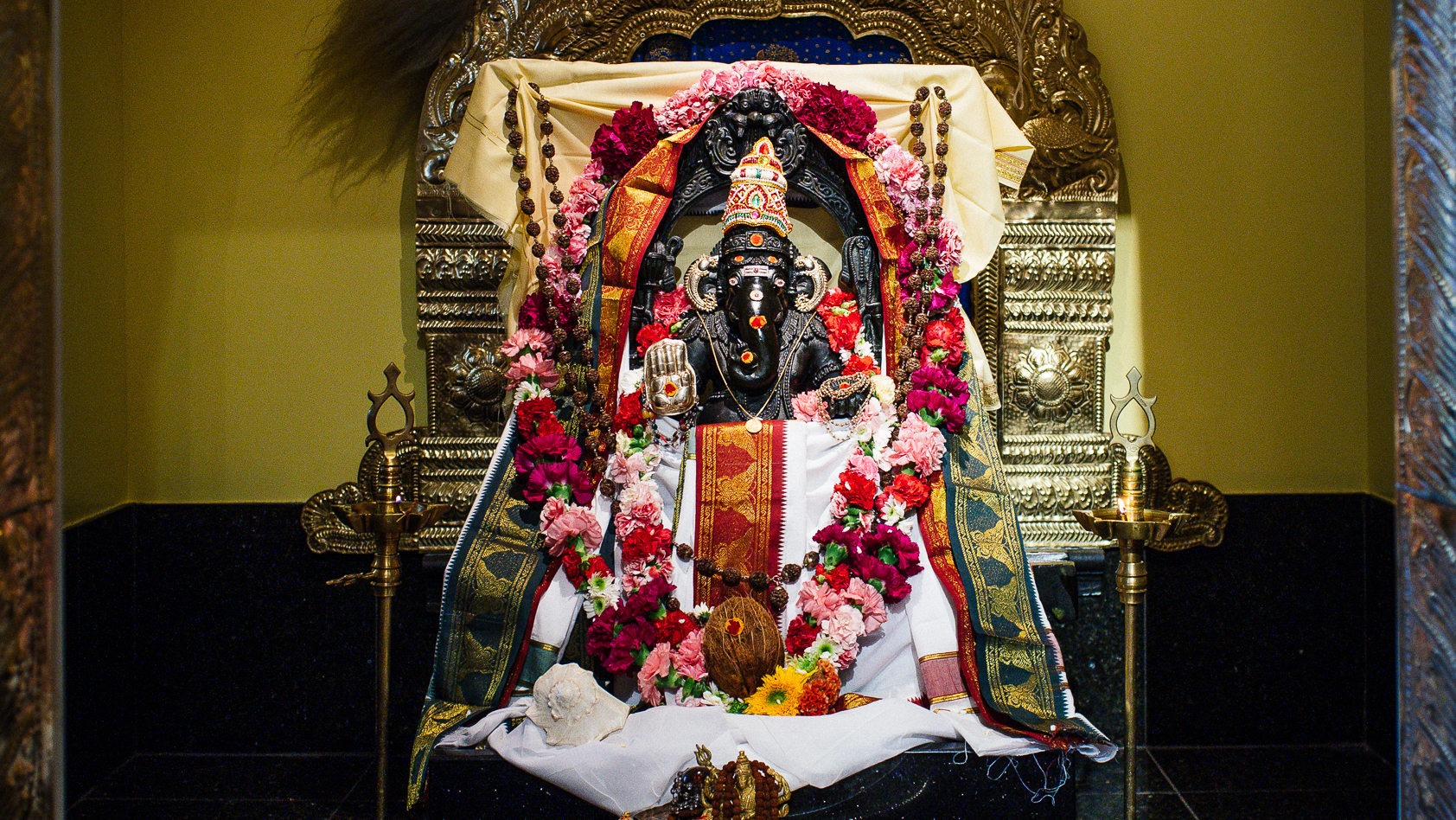 So, what's the ideal material to use for a pooja room design?
Unfortunately, this question is too broad to give a specific answer to. I mean, it depends on too many factors such as your preference, budget and style. Secondly, with the range of new products available on the market today, several materials can be used for the interior temple design.
Use Marble for Elegance:

Marble brings a modern twist to the world of classic, tranquil pooja spaces.

As an elegant, rich and eye-pleasing design element, marble is sure to leave your mandir room aesthetically pleasing.

For a more divine aura, I suggest you go for the Vastu-approved pristine white.

Construct With Glass:

Many refuse to jump for this transparent material, unaware of how versatile it can be.

Due to its ability to offer a wealth of opportunities for homeowners to customize their projects, glass stands out as a highly diverse and private interior design element.

Bring in Nature With Wood:

Nothing evokes a space that's meant meditation and reflection more than a traditional carved wooden unit.

Precisely, wood is often favored due to its cozy and homey look, bringing along with it a crisp beauty of nature.

The pooja space is a reminder of a rich cultural heritage and wood is one of the best materials that can bring that look.

A large wooden structure or a small mandir unit built into a niche, wood can channel warm undertones and play with nature to create an ideal spiritual space

Beautify With Stone:

Natural stone, as you must have guessed, is one of the most desirable choices for interior design.

The earthly and striking look of stone has the potential to transform a space, creating a zen-like atmosphere – a space dedicated to worship, a retreat from the outside world.
There's nothing wrong with getting a bit creative and adding some artistic touch to your pooja room. What do you think?