In some cases, this space is tiny and dark, but in others, the house's architecture allows enough space to have a storage function.
Every home should have lighting under the interior staircase. If you do not have electrical facilities, you will need to consider this before decorating.
We have gathered some creative renovation ideas to inspire you as you begin your interior staircase renovation project.
1) Install Drawers or Shelves
A simple and convenient way to do this is to use the space to store all the items that are not used daily. You can order furniture with a specific motif or go for an open design and install a few shelves on the wall. In addition to shelves, chests, cupboards, and shoe racks can be placed to make the most of the space.
2) Create a Workbench
What if we told you that you could turn the entire space into an office and work in the area under the stairs? Instead of bringing bad luck, it promises to save space. There are many options: fix a simple horizontal table between the stairs and the wall, or install a folding table or a table with side shelves. Bring a comfortable chair, a table lamp, and a pot with a houseplant, and you're ready to get to work.
3) Create a Reading Corner
If you have a space under your indoor staircase where you can place not only the bookcase of your dreams but also a comfortable armchair and immerse yourself in reading for a few hours, stop thinking about it! Place your favorite armchair, and above all, don't forget a stool to rest your feet on, a small table for a cup of tea, and a floor lamp.
If the space is small, a bench with a backrest will suffice. Cushions or soft blankets can be placed on the bench for comfortable seating.
Of course, the most important thing to do when decorating the space under your stairs is to determine what you need for your home. If you need a chest of drawers that can hold dozens of clothes, shelves certainly won't help. Once you have determined what you need, all you need is inspiration and the right furniture.
4) Use the Empty Space Under the Stairs for Storage
You can use the space under the stairs as a wardrobe, but depending on the dimensions of the space, you may need a custom-made wardrobe. For instance, you can build a vertical wardrobe ideal for coats, jackets, blazers, etc. If you want to make it easier, wall hangers with hooks or standing stands will certainly do the trick.
5) Create Your Favorite Bookshelf
Whether you opt for modular hexagonal shelves, classic shelves, or ladder-shaped shelves, it's effortless to create a place full of charm. Now you no longer have to worry about not having enough space for your favorite books!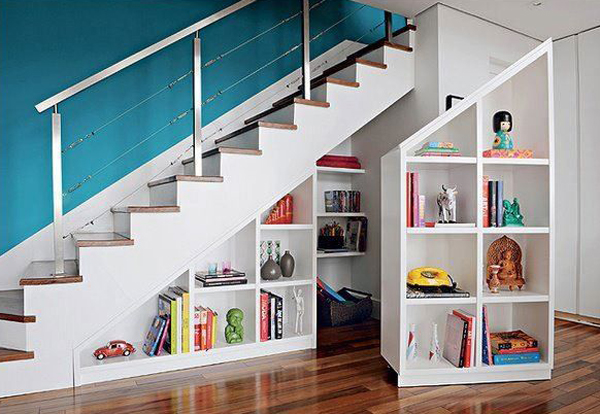 6) Create a Children's Playroom
Turn the empty space under the stairs into a children's playroom. Not only will your little ones have fun hiding, but storing books, games, and toys will keep everything in order.
7) Create a Phone Booth and Charging Station
Need a private space in your home to make phone calls? Turn the space under the stairs into a personal phone booth where you can make phone calls. If you don't have a landline phone, you can also use it as a charging station for electronic devices such as smartphones and smartwatches.
8) Design the Wine Room of Your Dreams
You don't need a large wine cellar in your home to store your wine collection. You can turn your basement into a wine room to store and display your bottles. With a bit of ingenuity, this space can have the visual appeal of a major renovation at a fraction of the cost. A wine room on a staircase can be furnished in several ways, including recycled wooden boxes, glass walls, and customized cabinets.
Do you have any other ideas? Let us know in the comments below!